Ironman 2 Slot Review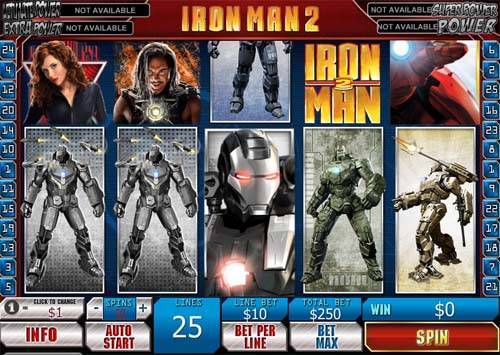 Ironman 2 Slot Review
Powered by Playtech
50 Paylines in Game
Overview of the Iron Man 2 slot.
Iron Man is now one of the most recognised comic book characters in the world, thanks to a major series of films and of course the long running comics of the same name. This character is a favourite of new comic readers and old school fans alike thanks to a winning personality and cool tech that really looks great on the big screen.
Iron Man 2 is one of Playtech's popular Marvel tie-in slots and was so popular that there's even an Iron Man 3 slot too! As the title suggests, this game opts to focus on the specific Iron Man 2 movie rather than have a generic comic feel to it. The slot has a massive 50 lines and a free spin feature with a tasty 6x multiplier, as well as four progressive jackpots. Let's take a look at this modern hero and the game in more detail.
Who is Iron Man?
The short answer is, of course, Tony Stark. Unlike the typical super hero who shuns the limelight and uses an alter ego to go about their lives with privacy, Tony Stark loves being known as Iron Man and makes no attempt to hide it. This billionaire inventor runs an arms company which has shaped the world, often for ill, but his latest invention- the Iron Man robotic suit- aims to correct his mistakes and wage war on evil instead. Each new comic series and movie sees Tony improving the suit, which is vital in the Iron Man 2 film.
Iron Man has been in comic books since 1963, making him one of the original Marvel characters. He has appeared in six movies played by Robert Downey Jr. Three were Iron Man titles, two Avengers movies and one Captain America movie (discounting cameos and movies yet to come!). This slot focuses on Iron Man 2 from 2010 where demons from his past attack in the form of Russian inventor Ivan Vanko whose father felt betrayed by Stark's own father. This movies introduces elements of S.H.I.E.L.D, the building blocks of the Avengers team-up.
How does it look?
This is a really great looking slot, with some fantastic artwork. Because it focuses specifically on one movie, the artists have used the likenesses of the movie actors Robert Downey Jr as Iron Man, Mickey Rourke as Vanko (a character similar to Whiplash from the comics) and Scarlett Johannsson, who plays spy Natalie Romanoff. There's a game logo and S.H.I.E.L.D logo too, tying together themes from the film. The slot's sounds and appearance really suit Iron Man's high-tech style.
Something which makes this slot stand out visually is the stacked symbols. There are six symbols which cover two spaces on the reels, vertically, creating room for a portrait image. These have some great, detailed art featuring Iron Man, War Machine and four other robot suit iterations. Though this game lacks a full immersive bonus round, these icons make up for it in spades, showing off the capabilities of modern slots in high resolution.
How does it play?
This is a 5-reel slot and has a whopping 50 pay lines (also known as win lines) which give you a huge amount of variation, so you aren't just relying on symbols straight across the middle. The downside to this is that new players might not realise how much they are betting, so be careful or try on demo mode first. The best paying symbols in play are Tony Stark and Romanoff, topped by the wild S.H.I.E.L.D symbol which substitutes for all except the Iron Man logo.
The Iron Man logo is a scatter and can net you 10 free spins, which have a multiplier that rises up every two spins, up to 6x. This is how you unlock the biggest wins. Better yet, during this bonus round you have an extra wild symbol in the middle of the reels. This slot also has four progressive jackpots, the four power levels at the top, which can be triggered at any time. They take you to a jackpot game where you must click on a grid to reveal your prize, but you can't actually lose once you get here.