Iron Man 3 Slot Review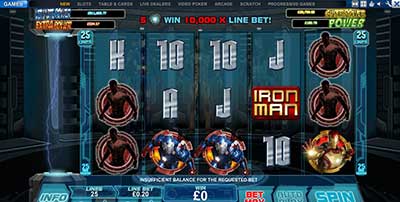 Iron Man 3 Slot Review
Powered by Playtech
25 Paylines in Game
Overview of the Iron Man 3 slot.
Iron Man is perhaps the most easily recognised Marvel character in terms of the recent movie incarnations, since he has starred in several movies both by himself and with others. He has a lot of charisma, portrayed as sarcastic, fun loving and often flawed. The third Iron Man movie was very successful and introduced the sleek Mark 42 suit, so it's no wonder Playtech made a slot to tie in with it, making this one of the most recent Marvel slots.
This is a 5-reel slot but instead of sporting the huge 50 paylines of some other Marvel games, they have opted for 25 paylines and instead put complexity into the features. This game sports no less than four interesting feature modes, all themed on the movie characters. On top of that you have fantastic artwork and graphics, featuring Iron Man and more characters with full 3D-style animation. Let's take a closer look at Iron Man and these great features.
Who is Iron Man?
If you're new to comic books, you'll soon encounter Iron Man, aka Tony Stark. This billionaire industrialist is at the head of an arms empire, but after being kidnapped and forced to create weapons for terrorists, he soon realises that he should use his genius to make the world safer instead. He creates the Iron Man suit and goes forth to battle evil personally, finding that there's more to himself.
Despite a huge history of comic books and films (Iron man actually appears in six Marvel movies!) This Iron Man 3 slot naturally focuses on the third standalone movie, which deals with Tony realising that he's far from invincible, while a terrible new terrorist threat called the Mandarin appears. Iron Man, played by Robert Downey Jr, goes back to basics and builds a new suit to deal with this threat and another closer to home; Aldrich Killian and his Extremis drug.
How does it look?
The Marvel slots are known for looking good, drawing on the rich artistic history of the characters they use. Iron Man 3 is no exception and looks just amazing, with plenty of little animations triggering all the time. Most notably, there is a kind of projector to the left of the reels, showing you characters rendered in 3D. This is quite unique and really makes the game stand out.
You will see various characters turned into symbols here, such as the grey Iron Man suit called War Machine, Killian pumped up on deadly Extremis, the rebranded War Machine called Iron Patriot and of course Iron Man himself. The new Mark 42 Iron Man suit makes an appearance, with its own feature round, showing that they pay attention to the movie. The Hall of Armour feature is a great example of the artwork, showcasing the different Iron Man outfits in all their glory.
How does it play?
This 5-reel slot has 25 paylines and ranges from 0.01 minimum coin size to 5.00, so you can make some pretty huge bets if you so desire, or just stick to one line. Most of the symbols are card suits, or get the villains for small wins, or the Iron Man suits for the most pay out. Look out for the wild, which looks like the suit's power source, for really big wins. There is a fun 'all systems go' re-spin mode where if you get Iron Man on reel 1, War Machine on 3 and Iron Patriot on 5 then you get a re-spin and those characters are locked in place, paying as scatters.
The Hall of Armour free spins is triggered by 3 Iron Man logos. Pick the Mark 42 armour for 10 free spins with freezing wilds, pick War Machine for 8 free spins with random wilds or pick Iron Patriot for 15 free spins with a multiplier ranging 2x to 5x. This feature is great as there's no limit to free spins if you can keep landing the Iron Man suits. You can experiment with each mode to see what you like best. Don't forget this slot also has the four Marvel Jackpot progressives to win, on any spin, which takes you to a special game to pick your prize.