Blade Slot Review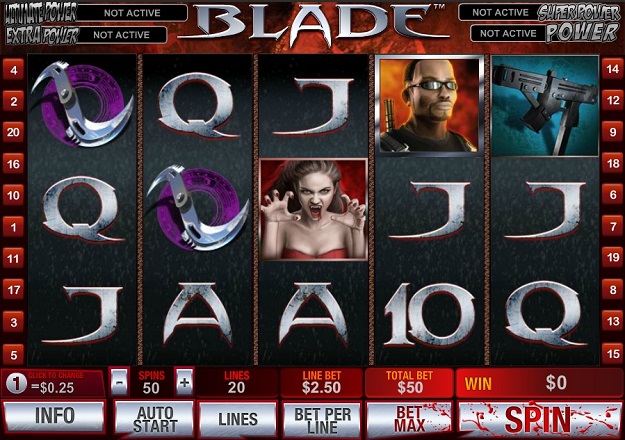 Blade Slot Review
Powered by Playtech
50 Paylines in Game
Overview of the Blade slot.
Blade is a very recognisable character who is hugely popular and has a long comic book history, though many people will recognise him more from his movies than from his comic series. He first appeared in 1973 as a supporting character, before getting his own comic series. With a very successful film franchise, this African American vampire hunter stars in some dark and gory titles, which is reflected in the slot game.
This is a 5-reel slot and has a gloomy theme, but also features the popular four Marvel Jackpot progressive prizes called Power, Extra Power, Super Power and Ultimate Power. Reflecting the general feel of the movies and comics, this slot has some great art and animation, as well as funky music for the information screens. Thanks to a couple of fun, simple features, this game should impress Blade fans. Let's learn more about the game and the titular hero.
Who is Blade?
Blade's origins have varied a lot between different comics and also TV and movies, but he's generally agreed to be an American vampire hunter who is himself a kind of vampire. More specifically he's a 'dhampir', half human and half vampire. He has all of their abilities, such as enhanced speed and reflexes, plus an amazing healing rate, yet he doesn't suffer the burning of sunlight. However, Blade does still thirst for blood.
Blade's character revolves around managing his thirst for blood without hurting innocent people, while needing his bestial powers to battle other vampires. He fights against his own kind and finds it hard to make alliances. The Blade movies expanded on this with various supporting characters such as Whistler. Blade is portrayed by Wesley Snipes in the movies and by Kirk Jones in a TV series. This is a great hero for slots because he's a no-nonsense badass who injects some action into the game!
How does it look?
This is not one of the best-looking Marvel slots, but it does have some nice artwork. The likeness of Blade is not based on Wesley Snipes but does use a similar outfit to the one he wears, plus of course you have the iconic weaponry like his double-edged sword. The individual symbols are very nicely drawn and include the numbers 1-10 and AKJQ in the classic Blade font, plus a gun, silver stakes, injectors and throwing blades. Fans will surely recognise these deadly tools! The top scorer is the she-vampire, except for Blade himself who is wild.
The game has quite a grungy feel and even the buttons are spattered with blood. Winning symbols come to live with animation and if you get the Blade Split symbol, you'll see the hero draw his sword and chop symbols in half! The female vampire looks particularly cool in action. The Marvel Jackpot round takes you to a grid screen which adds some needed colour to the game.
How does it play?
The Blade slot is a 5-reel game and features 50 paylines, higher than the average slot by far. Some new players are put off by this but so long as you watch how much you're betting, you can largely ignore paylines; you win or you don't. Use the controls at the bottom to reduce your bet per lines if you're spending too much. The symbol to look for is Blade himself who is wild and substitutes for all symbols except the Blade Split and Blade logo.
The Blade logo triggers free games if you land three or more. This grants you 15 free spins, starting out with a random multiplier of x2, x3, x4 or x5. With each winning spin, this goes up and can increase in steps of x2, x3, x4 or x5, so it can get very high quickly. Playing more lines increases your chance of a multiplier jump. This round can go on infinitely. Also, look out for Blade Split on reel 5, which splits the last symbol in a winning line into two, so they count twice. This gives you potential 6 of a kind combinations and can really boost winnings. It feels very fitting that Blade helps you out by chopping things up with his sword!